_ForgeUser4362031
Curse Premium
Location:

Omaha

Join Date:

4/27/2010

Posts:

333

Member Details
This tutorial is outdated. For a newer method on adding team colors check out this link.
http://www.sc2mapster.com/forums/resources/tutorials/69058-textures-creating-team-color-textures/
You can view some of my older models in my signaure.
Before you can begin here is a list of programs you'll need.
WoW Model Viewer
http://code.google.com/p/wowmodelviewer/downloads/list
Photoshop
Nvidia DDS plugin
http://developer.nvidia.com/nvidia-texture-tools-adobe-photoshop
3DS Max !!!!2011 DO NOT USE OTHER VERSIONS!!!!!
Nintoxicated's scripts
http://www.sc2mapster.com/assets/m3-export-plugin-3ds-max/
World of Warcraft
Step one – Creating your unit in WoW Model Viewer
The first thing you're going to do is open up WoW Model Viewer, I will refer to it as WMV from now on. You will be asked if you would like to load World of Warcraft, do it. Go ahead and select which model you would like to use. For the purpose of this tutorial I will be making a unit I still need for my map.
On the right side of WMV you will notice several buttons that say Head, Shoulder, Shirt, Chest, and etc. This is where you select what your model will be wearing. Be aware that you cannot put armor on non-character models. You can however give them weapons. Although there is no reason to do so because Weapons, Shoulders, and Helmets currently do not get exported with the models.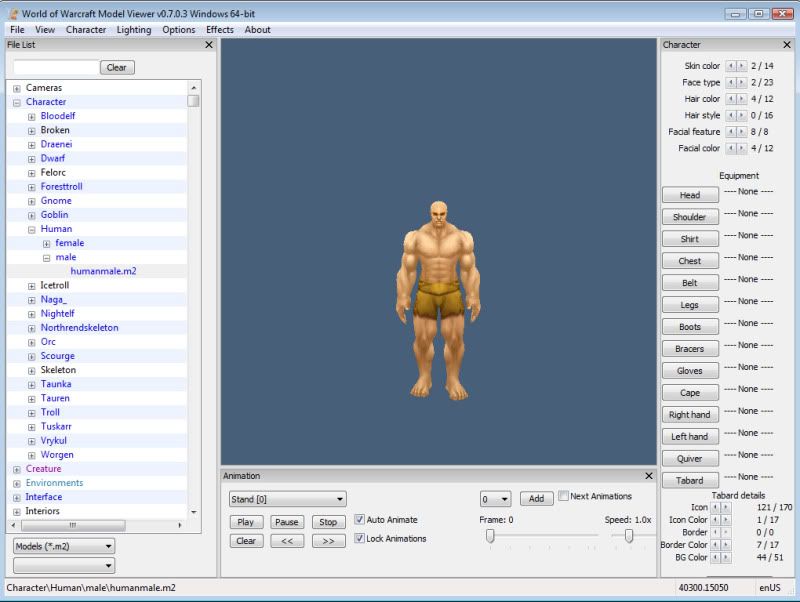 After you have selected what you want your character to wear we will now have to select which animations to export with it.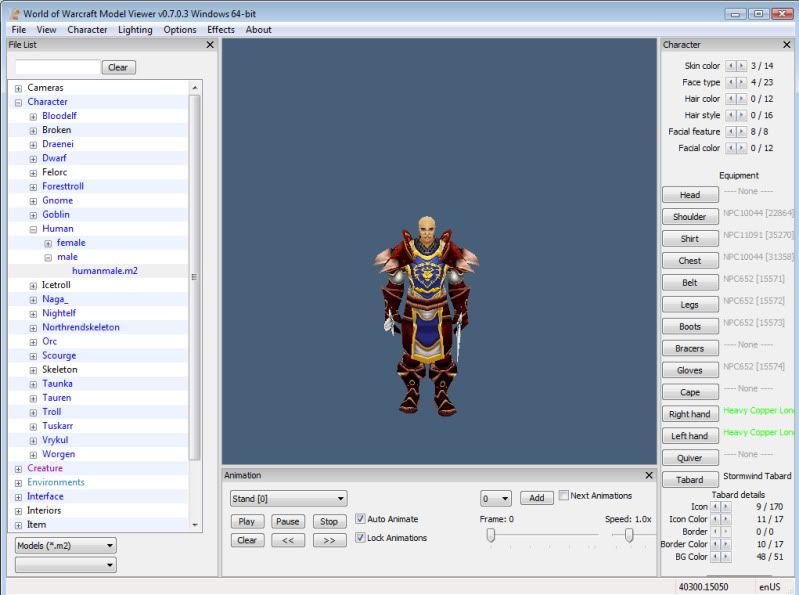 Go to Options and select Export Options and go the M3 tab. It is important that you rename animations to fit with Starcraft 2. When determining animations names you need to take into account Animation Groups. For instance if I want my Berserker to change from his normal Walk animation to a Stealth Walk I will rename Stealth Walk into Walk A. When I apply group A any another animations such as Attack A or Spell A will be used as well. Once you have selected all of the animations and renamed them set an export path and hit apply.
If you wish to follow me here is the names of my animations and what they use.
Walk - Run [2]
Stand - Stand [0], Stand [26]
Stand Ready - Ready1h [3]
Stand A - ReadyTrown [84]
Stand B - Stun [9]
Stand C - Cower [151]
Stand D - Knockdown [113]
Stand E - Strangulate [154]
Stand F - Fall [20]
Stand Left - ShuffleLeft [43]
Stand Right - ShuffleRight [44]
Death - Death [7]
Attack - Attach1H [86], Attack1H [87], Attack1HPierce [104], AttackOff [89], AttackOffPierce [90], Special1H [88]
Attack A - Stormstrike [173], Mutilate [149]
Spell - ReadySpellDirected [32]
Spell A - ReadySpellOmni [33]
Spell B - SpellCastDirected [81]
Spell C - SpellCastOmni [80]
Spell D - BattleRoar [118]
Spell E - DragonStomp [146]
Spell F - Kick [85]
Spell H - ChannelCastDirected [119]
Spell I - ChannelCastOmni [122]
Spell J - Whirlwind [120]
Spell K - Dodge [94]
Spell L - Parry1H [93]
Now that our character has animations and armor we can go ahead and export it. Go to File -> Export Model -> M3. When you export the model all the animations and armor it is wearing will be exported into texture files and an .m3 file.
Before we do anything else to the model we need to find it some matching Shoulders, Helmet and Weapons. On the left side of WMV minimize everything so you can find + Item. In here you will see a list of Ammo, Head, Shield, Shoulder, Weapons and etc. Search for the specific pieces you are looking for. This may take you awhile if you haven't play WoW very much. A couple things to consider are if the items are acquired via PvP that they generally have PvP in the name unless they are Burning Crusade items. In that case that will be under the PvE gear with a different texture.
I am using the following items.
lshoulder_plate_d_04
rshoulder_plate_d_04
sword_1h_short_c_02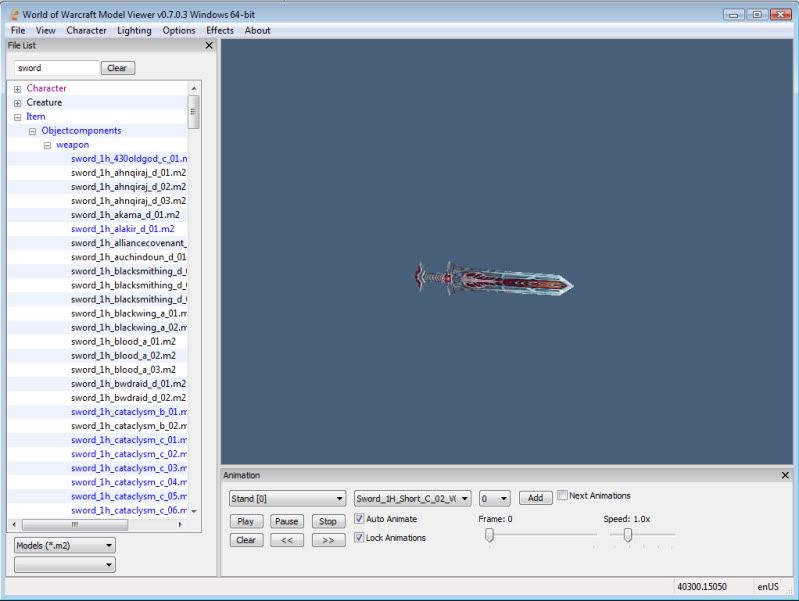 Once you have found the Shoulder, Weapon, Shield, or Helmet you want to use go ahead and go to File -> Export ->Wavefront Obj. We will do this for each piece. For shoulders will need to do both the Left and Right ones.
Now we should have everything you need to move onto the next step.