_ForgeUser4291358
Join Date:

4/9/2010

Posts:

145

Member Details
This Tutorial is going to cover how to make nice looking Minimap icons that are tinted to each player's team and specific to each unit. Here is an example of what the Minimap looks like the the mod I have been developing...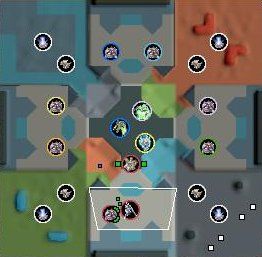 It is extremely quick and easy to do... The first thing you will need to do is download the background I created for the minimap icons, it is available here...
http://www.sc2mapster.com/assets/minimap-icon-background/files/1-minimap-icon-background/
Download that .dds file and import it in to your map
Open your Data Editor, and go the the Actor of the unit that you want to give a custom background to, Set the fields accordingly. Here is how i set up the data for one of the units in the picture above...

Minimap Icon Background is set to the image that you imported above, for the Minimap Icon field, set that to a button for an icon of a unit that you want... It is not necessary to use a button in this field, however you need to make sure that the image you choose has a transparent background. You can experiment with the Scale on the Icon and Icon Background to see what you like, you will have to scale the button down quite a bit to make it fit in to the MinimapBackground. I used .8 and .25 to get the results you see in the example image above.
Do this for each unit that you want to have a custom icon and it really adds a nice touch to your map