_ForgeUser7802602
Join Date:

11/3/2011

Posts:

2,221

Member Details
Frozen Ammunition
Check bottom for A few Screenshots.
Lets begin, Today we will be creating a weapon that Slows units in a splash radius.
This weapon WONT do damage
Okay to begin create a New Behavior With type BUFF and name it Whatever you wish today I will be naming mine Frozen Ammunition
Lets begin, First Go into the modifications+ Field and go over to movement go to movement speed multiplier.
Okay the way the movement speed multiplier works is 1 = 100%, .25 = 25%, 1.5 = 150%
So for today we will set it at .5 OR 50%.
Hit okay, and now go to the Duration Field, Set this to how long you wish the slow to last, I set mine to 4.000 or 4 seconds.
Now go to the effects tab and create a new effect, I'm calling mine Frozen Ammo, With the effect type Apply Behavior
Now just go to the Effect : Behavior and Plug in the behavior you just created.
Next create a new Effect im naming mine Frozen Ammo Search with effect type Search area
Okay now go into the search area field click the green X to create a new selection.
First Plug in the Apply behavior effect you just made.
Now to explain the radius, The radius is Half of a circle, the circle so if you set the radius to 2 then the circle will hit in about a 4 x 4 area cutting some corners lol
So I am going to set my radius to 2 and then hit okay. Next Go to the search filter area deselect Neutral, Player, and Ally, then you may also Right click any type of unit that you with to not be freezable by simply right- clicking and hitting excluded.
Now go to the Weapons Tab and create a new weapon
Now go to the effect field and plug in your Search Area Effect.
go to minimum range and choose what range you want this weapon to be shot at, Mine is going to be set to 5
choose which icon you wish the weapon to have.
Now for the fun part ACTORS go to the Actors tab and create a new Actor with type Model with parent set to ANIMATION STYLE ONE SHOT
Set the actor : Model to Crystal Large and set the scale to around .3 or .4
Then go to the actor Events + and create 2 new events.
1. * Behavior. (Insert your behavior here). On
Create
2. Behavior. (Insert your behavior here). Off
Destroy**
Now just add the weapon to your hero for a non damaging Slowing AOE attack :D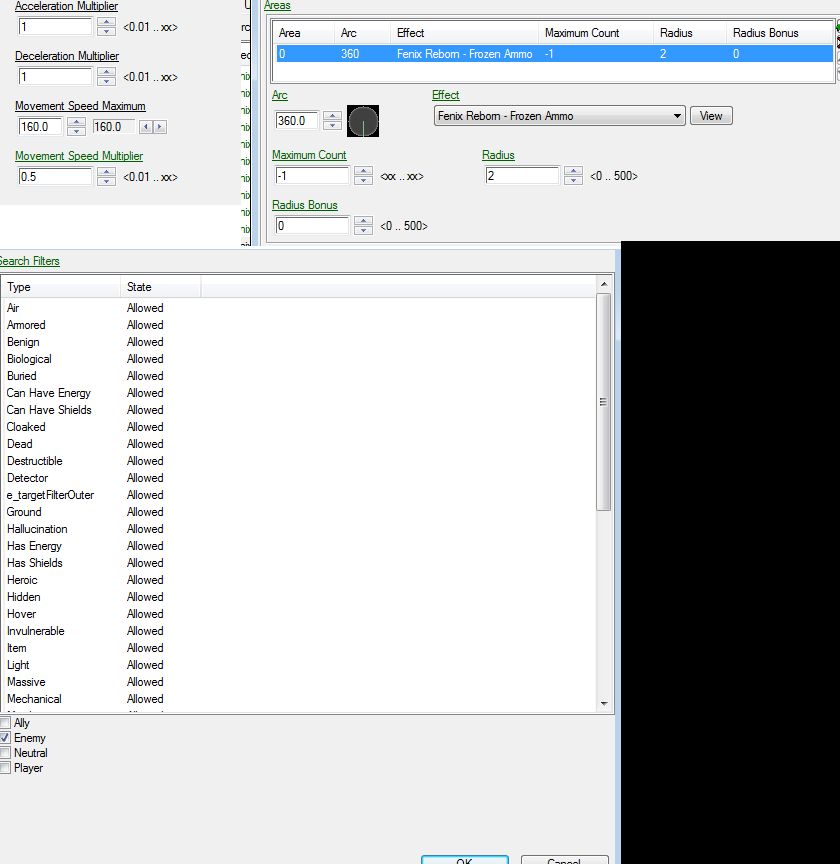 my maps will always be Free. and Available to the public at the earliest possible date. If you need a tester feel free to ask IShadowWolf.258 You can also catch me on the IRC most times.