_ForgeUser4236630
Join Date:

3/28/2010

Posts:

135

Member Details
Hey guys, due to popular demand I decided to rework my old M2 Importer script for 3ds Max so that it would work with the latest World of Warcraft models (WotLK and Cataclysm). It's been designed for WotLK models but fortunately it seems Cataclysm will not introduce major changes to the model format and so the importer should work just fine once Cataclysm goes live too. You can grab the script bundled with my other M3 scripts here.
I'll need to provide a quick tutorial on how to use the importer as World of Warcraft model files are no longer standalone model files. You have .skin and .anim files in addition to the actual .m2 file. This makes importing messy (especially coding the script, believe me) but there's an easy and quick way to do it. Get a hold of an MPQ extractor, personally I recommend Ladik's MPQ Editor. You'll need to extract a file from your WoW MPQ's if you want your animations to be named. It's called 'AnimationData.dbc', it contains all the names of the animations that WoW uses, and it's located in your language MPQ's (i.e. in Patch-enUS-3.MPQ). Once you're done extracting the file, make sure you close the MPQ so it's no longer being accessed.
Next, grab the latest version of the WoWModelViewer which can be downloaded for free here. Find the model you want to import into max and load it up in the model viewer. Once it loads, go to File->Export Textures...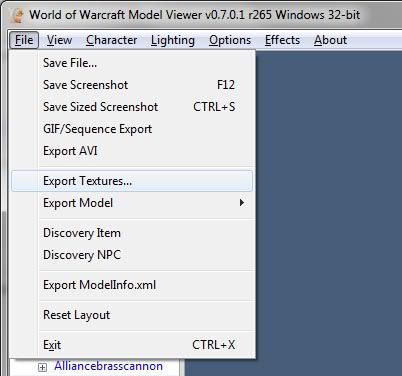 Now when the new dialog pops up, click on 'Export All' and 'Export All to TGA'. Make sure 'Path Preserved' is unchecked.



The exported files will be located in your WoWModelViewer directory in the 'Export' folder. I recommend cutting and pasting them to another location so they don't get mixed up with future exports. Now head into 3ds Max. When you open up the M2 Importer, you'll notice a settings button you should click on.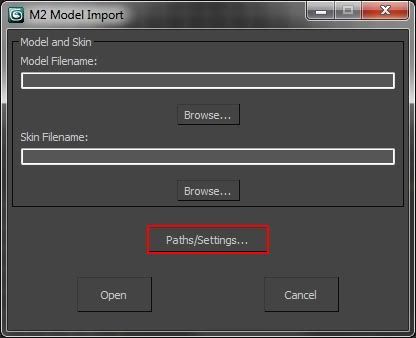 In the settings, you should configure the DBFilesClient path to where you extracted the AnimationData.dbc file using the browse button. This lets the script know where to find the file so it can apply the correct names to animations. Important if you plan to export to M3 later.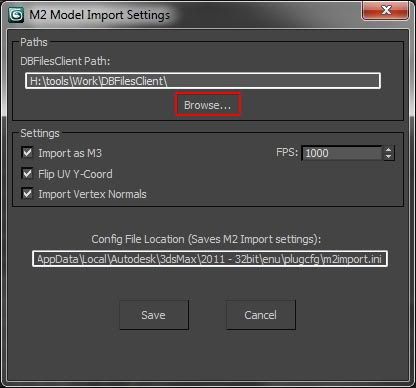 If you left 'Import as M3' checked in the settings, the script will automatically scale the model for you (half it's original size seems about correct for matching the size of Starcraft 2 Models) and re-orient the model to face the same way as Starcraft 2 models do. An 'm3root_bone' will be created which can be used to alter the position, rotation and scale of the model without affecting animations. Additionally, it will select to import only Attack, Stand, Death and Run animations (which you can alter on import if you wish) and automatically rename them to M3 convention. In order to control animations, you must select 'M3 - Sequences' from the Utility drop down menu in the MAXScript panel.
Attachments will also automatically be created as Starcraft 2 attachments and given appropriate ID's, but it's not perfect as alot of the attachments have ambiguous function in World of Warcraft models. Finally, Starcraft 2 materials will be setup for you based on a rough conversion of the M2 material definitions. I've tried to name the bitmaps so you know what should go where, as some World of Warcraft textures are assigned through DBC definitions and not within the M2 itself.
Hard-coded M2 textures should be automatically applied if they are in DDS, TGA or PNG format and in the same folder as the model. The TGA textures exported from the WoWModelViewer should be fine in Max, but I've found they won't render in the Starcraft 2 editor without being resaved as 32 bit TGA in Photoshop.
If you follow these instructions it should be relatively easy to export any animated M2 to the M3 format to be used as a Starcraft 2 model. Here's a short video showing the power of the importer/exporter combo in-game. I'm not great with the editor but I tried my best to get the concept across. I suck with video editing which explains why the ratio is all off and such when I embed it. Go to the actual video it comes up a bit better :(.
Cheers,
- NiN