_ForgeUser7360015
Join Date:

8/10/2011

Posts:

235

Member Details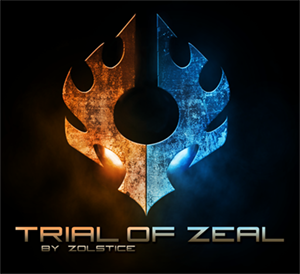 Enter the Trial of Zeal to join the ongoing gladiatorial conflict between the Corrupt and the Pure. Battle with unique heroes and defeat the opposition!
This Map is available in: ALL SERVERS, including CN
Hey there sc2mapster! After a year's worth of development my hero arena has finally been released thanks to the support this site has given me. I intend to make this thread a place to leave feedback and discuss/develop my map further.
Following the footsteps of the hero arena genre, Trial of Zeal is best described as a gladiator arena, pitting team versus team duels minus the leveling or item building. In addition, most projectiles in the game can be dodged or blocked through the use of obstacles.
This Map is featured in the Arcade Highlight as of June 21 2013!*
Bound by Team Health
ToZ strives to differ from other arenas through the inclusion of a Team Health. This special health depletes when a team's hero takes damage. It also decreases periodically if the opposing team controls more Beacons than your team does. All damage, no healers required. While the Team Health stands and as long as there is at least one member of the team alive, injured heroes revive over time.
Go for the KO
To win a game you need to take down all opposing heroes. However the twist is, all of them must be downed together within a time frame since heroes revive after a period of time. In order to accomplish this goal players will need to cooperate bursts and perform target switches to down all opponents together before a revive occurs. There are a couple ways players can achieve this, but they can also opt to deplete the enemy Team Health to zero to prevent revives.