_ForgeUser4395422
Location:

Join Date:

5/5/2010

Posts:

870

Member Details
Hiya,
I've been working on this project for well over a month now and so far have made alot of progress. It's testable single player, almost playable multiplayer and I'm hoping to have it all ready for the SC2 official game release.
The map in short is basically of Castle Fight with some Card Game elements. Basically you have two opposing teams on either side of the map, players can summon units, create structures and cast spells. Typically summoned units are uncontrollable and automatically aggressively seek out the enemy team. The players goal is guide and assist them with more reinforcements and spells in an attempt to destroy his opponents.
So far everything is looking good, but visually would like to take the map to a new level. What I'm basically looking for is:
Icon Artists: Someone capable of making smallish icons 76x76, mainly for spells. Many of the already existing SC2 ones could use some color and of course simply brand new ones would be fantastic.
Effect Makers: Someone skilled in creating minor buff/aura/explosive type effects. Typically for on units and small locations.
Idea Brainstormers: Someone who really enjoys the Castle Fight genre and whom is also equally passionate about Card Games. Has plenty of time to review my deck lists for feedback, criticism, ideas and maybe even run some map tests from time to time.
Any questions feel free to ask, I really am fully committed and working very hard on this project everyday. Anyone who likes the sound of this and would like to help out, it would really be appreciated, thanks.
BATCH 2
LunarisDream thanks alot!
>>
XYZMuffin thanks again :)
>>
HellsAn631 his first post and a very nice icon!

>>

BATCH 1
XYZMuffin was kind enough to do one:

>>
>>
Alex has done quite a few as well:
>>
><
>>

><
>>

>>
><
>>
REQUESTS
Hope you guys might consider some of these. They could use some color, I tried to give a brief spell description and how I think the icon should end up. Hopefully that will help.
Blood Bath spell that debuffs a unit causing it to slowly erode and explode on death, healing all your friendly units nearby with the blood spatter. Pretty straight forward this one :) The pic below should help but keep in mind it will have a dark black background!

>>
>>
Plague spell that debuffs an enemy unit infecting it with a deadly plague, which withers it's health down and also spreads on to nearby enemy units. The face should be made grey/white and the surrounding various shades of green. The icon after depicts the color scheme very well.
Infest spell that injects parasitical lifeforms into a target unit, causing new units to burst into life should this unit die. Ideally the organism should be brown and the tendrils pink. Various shades of those colors would be nice :)
<<<<<<<<<<<<>>>>>>>>>>>>
Lastly, If someone would prefer to make a fresh new icon. I could really use one for another spell called Flame Burst. It's fires a ball of hot plasma at a unit. Here is a pic of it in game (it's the Yamato Cannon Missile effect)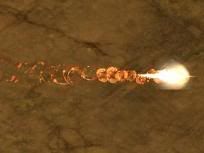 Here's also an old War3 icon as an idea, something like that would be great, facing any angle.

Here's the colors and theme that would be a appropriate in a fireball like shape.
Let me know what you think, Thanks.