_ForgeUser9460792
Join Date:

8/24/2012

Posts:

258

Member Details
Your religious beliefs are equivalent to supporting slavery.
Quote from SouLCarveRR: Go

@Eiviyn: Go Does implying I'm pretending make you feel superior, god I hate little bastards like you. ..... since when have you been challenging anything? All you seem to do is ridicule.
Hey, that's the same thing the Taliban say to people (even to other muslims) who disagree with their interpretation of the Quran.
Quote from SouLCarveRR: Go

@EternalWraith: Go You guys should move to a Muslim country and start there by trying to expose the horrible facts of their religion, in the open street. And see where that gets you.
You should read the Bill of Rights sometime within your lifespan.
Quote from SouLCarveRR: Go

This is the OP.

How can you allow this to turn into not stop just hating on religions. People should not be made to feel like they have to defend their beliefs to the atheists just to have a conversation. How can you let them just sit there and spam their hate?

Pretty disgusting to me, and it angers me to violence.
Taliban much?
And so, we return to the topic of propensity for militancy among religious folks.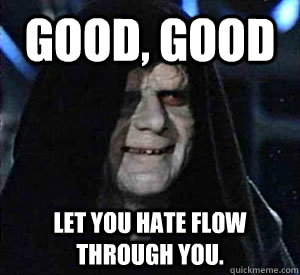 I remember seeing the meme using hate and Darth Jesus, but I can't look for it right now, so this will have to do. The pope meme isn't as good.
Totally LOL at these: